JULY-AUGUST 2017
Sunday Worship service
Begins at 9:30 AM
Go paperless!!  Now you can give online!!
Click the link below
10 AM September 3rd
Worship with UCC Abington & FCC Rockland
♦♦♦♦♦
Dear Church Family,
Change.  In some places change is a four-letter word.  A word that can strike fear and anxiety into the hearts of many because we are comfortable with what is and are afraid of the uncertainty of what might be.  For better or worse 
I have never been afraid of change.  I'm not in favor of change for the sake of change because this is reckless and thoughtless.  I am, however, someone who has always looked at the way things are and thought about how things might be done differently or thought of in new ways.  This trait of mine has gotten me into some sticky situations and has brought me many gifts as well. 
I have come to understand and appreciate a saying by philosopher Heraclitus who said, "Life is flux."  What does that mean you ask?  It means that the "Only Thing That Is Constant Is Change." 
Change can be positive or negative.  The rise and fall of the tides is a change, as any of us can attest. A low tide can leave you high and dry on a sandbar; a high tide can float you free…or it can cover up the oyster bed that you were planning to make your supper. Sometimes a change is clearly one thing or another, but often the impact of change is complicated, even frightening. Others are more benign, like the changing of the seasons, from winter to spring or from the season after Epiphany in the church to the season of Lent. Change is inevitable.
Recently you all received a letter about a potential big change for our church around the possibility of me being offered a position on the Whitman Fire Department and moving to part-time ministry at the church.  I want to be as clear as I can ever be in saying that I do not want to stop being your Pastor.  I love our church and I love each one of you with all my heart.  I love being your Pastor and I love being a part of this wonderful community.  It is my sincere belief that we will be able to work out a plan that will benefit both the church and me as I pursue my call to help others through the Fire Department. 
Moving forward we are in the process of forming a small group of 5-7 people that will be put together by Gail Clement who will begin looking at the changes that will need to be made if we move to part-time ministry.  We will talk about what will be different with fewer hours and what will be the same.  This group will be working with me to help ensure that you all stay informed and will create opportunities for question and answer sessions as we move through this process.  We have scheduled informational meetings for July 2nd and July 16th after worship in the library for anyone who would like to attend.  We will do our best to keep everyone informed as we gather new information and move forward in this process.
If you have any questions regarding this proposed change please reach out to talk to me.  I have talked to many of you who are strongly in support of this new opportunity but haven't had many conversations with people who have concerns or disagree with the idea.  I have heard second hand that there are "some people" who have concerns and I would love the opportunity to discuss these with you.  As much as I wish I could, I can't read minds so please call me (781-252-0981), email me, talk to me after church or come by my office!  I want to hear your concerns or questions so that we can work together to ensure that our church has a bright and wonderful future together.
In way of communication I have added to the end of this article a series of questions from Gail Clement that I answered that may be helpful as we move forward.  These questions may help answer questions that you have or might help you form questions you never even thought of!
I love this church and look forward to being your Pastor for many years to come and I believe that this potential shift to part-time ministry gives us the best opportunity to make that possible. 
Peace,
Pastor Josh
♦♦♦♦♦
VACATION BIBLE SCHOOL
August 7th – 10th
9 AM - 12 Noon
Click here for Registration Form
♦♦♦♦♦
1234567890123456789012345678901234567890
<![if !vml]>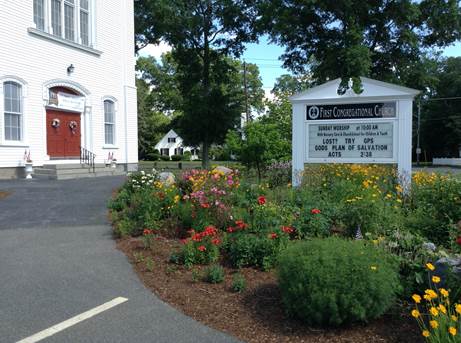 <![endif]>
"Love Does"
Small Group Discussion & Brown Bag Lunch
Wednesdays
July 12th – August 9th
12 Noon – 1 PM
♦♦♦♦♦
MOVIE NIGHT
"God's not Dead 2"
Sunday, July 16th
6 PM
August movie night date
Sunday, August 9th
6 PM
♦♦♦♦♦
GUEST PREACHERS
July 23rd - Suzy Burba
July 30th  - Kathy Talbot
August 6th  - Sarah (Iverson) Courtney
♦♦♦♦♦
Saturday, August 5th 
Volunteers Cook & Serve
at Mainspring
♦♦♦♦♦
Love to sing?
Join the choir and help lead the congregation in song
Practice is Sunday mornings at 9:00AM
Come To church any Sunday to meet the choir/director and for more details about the program
You'll be glad you did
All types of voices welcome.
Church and Fellowship hall are available for your event
Please contact the church office for available times and costs
Baby showers- Wedding Showers- Collations
Weddings and Special Events
The fellowship Hall underwent a beautiful face lift in October
Check us out when planning that special event.