MAY 2020
WORSHIP SCHEDULE
10:00 AM Worship
11:00 a.m.: Fellowship
<![if !vml]>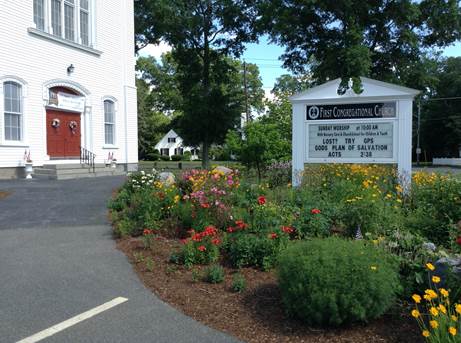 <![endif]>
Margaret Mannke – Secretary
Office phone: 781-447-5557
Sexton: Todd Decoto
Organist:  Linda San Martin-Brown
Go paperless!!  Now you can give online!!
Click the link below
  ♦♦♦♦♦
Wednesday Wonderings – MAY 20th
Thanks and kudos to several folks who have been hard at work these past few weeks!
Theresa Hayden for her dedication and hard work cleaning and prepping the gardens
Our generous donor who every year supplies mulch and keeps the Burrell garden beautiful.
The McPherson family for spreading mulch in the gardens and helping with yard work.
Trustees for spring cleaning the parsonage.
John Barr for his continued Food Pantry collection, quarantine and delivery work
Kelly Lopes and Roberta Spencer for all their help with on line worship
Ann, Sue and Barbara for MainSpring sandwich program.
For everyone continuing to mail in, online payment or drop off their offering
And especially for all the folks who are lending a hand unseen.
Together in faith and prayer we continue on.
May 20th the Trustees and Deacons are meeting to create a safe reopening plan.
The reopening date being discussed is June 7th.
Online services will continue to make sure everyone can worship either in house or together in faith from home.
Please remember in your prayers:
Sam C. and his wife and their four month old son who faces serious health concerns.
See your email for his address.
"Count it all joy, my brethren , when you meet various trials, for you know that the testing of your faith produces steadfastness. And let steadfastness have its full effect, that you may be perfect and complete, lacking in nothing.
If any of you lacks wisdom, let him ask God, who gives to all men generously and without reproaching, and it will be given him. But let him ask in faith, with no doubting, for he who doubts is like a wave of the sea that is driven and tossed by the wind. For that person must not suppose that a double-minded man, unstable in all his ways, will receive anything from the Lord...
Blessed is the man who endures trial, for when he has stood the test he will receive the crown of life which God has promised to those who love him."
James : Chapter 1, verses 2-8 and verse 12
♦♦♦♦♦
Easter Letter
Dear Church Family,
During this interim time of pulpit supply, I (Gail) have been writing any special seasonal letters that have been needed. I struggle each time to find the words I want to share since I find it so much easier to talk to people in person.  When I do find the words, I want to share them while driving or walking around town.
If I would only remember to drag along a pad of paper and pen or even a small recording device, my thoughts would be secure, and I could transfer them to letter form when I got home.  Best laid plans of course don't always happen and generally change minute to minute.
                                                                                                                                                                                                                                    In this uncertain time, we are facing many challenges that can be very stressful and anxious to us.
During this time of social distancing the outlets we once had are temporarily gone and we find daily life very different than it was just a few weeks ago. 
Jesus too faced a type of social distancing while he struggled to teach the world about God.  Jesus had to have such incredible faith in God in order to spiritually connect people together.  Traveling from place to place, talking, healing and sharing his love to all he met.
I think a lot about how Jesus was able to stay so strong and I decided that he relied a lot on not just faith but hope.   Hope. A hope that comes from very deep inside of a person that is just as essential as faith and prayer.
Did Jesus despair? I am certain of that. Did he get angry and frustrated? When he did, he found the strength and patience to forgive. Jesus had hope that his teachings would be heard and remembered.
Jesus had such incredible faith in God he went to the cross to be crucified for us. Jesus took hope with him to the cross that we would not forget the sacrifice he made for all of us.
Hope and Faith are within us always helping us during the hard, difficult times and the good times as well. When we need hope we can reach out to God in prayer.  Our faith in God will sustain us, our hope will raise our spirits. We are socially distant right now but more spiritually connected than ever.
It does not matter where you are, we can share our faith and hope for each other through prayer.  Those prayers will keep us spiritually connected to God who will love us always.
Easter is almost here!  We will be continuing with live Facebook services if we cannot hold services at the church.
This incredible day of Jesus's resurrection and the fulfilling of God's promise can still be celebrated with joy!
As Jesus did so long ago share your message of God's faith in creative ways. Find a way to reach out and share faith and hope with others. Put a smiley face sign on your front lawn.  Be spiritually connected!  Celebrate Easter's hope and happiness each day!
With Blessings filled with Faith and Hope,

Your Deacons, 
Gail Clement, Ann DeGrechie and Russ Greene
♦♦♦♦♦♦♦♦♦♦♦♦♦♦♦♦♦♦♦♦♦♦
Wednesday Wonderings will be the resource for updates on worship services and prayer requests.
Please email Gail at iamgjc@icloud.com with joys and concerns to share.
A live Facebook broadcast (available also as a link on this website) will be available each Sunday until further notice.
God Cares. Yesterday today and tomorrow
All over the world folks are doing what they can to support and give comfort in this time of uncertainty.
Everything has changed but God is our constant.
God will comfort the grieving and give strength to those who are in need
There is hope found through prayer and our continued faith that God will be there for all of us.
Our church family is amazing when called upon to help.
Some ideas.....
Fill the plastic container outside the parking lot door with food for the food pantry
Drop off cards in the office mail box to be mailed to area nursing homes or our shut-ins.
Put a sign with a word or picture of encouragement in a window or in your yard
Every day at 3PM let's all take a moment to connect spiritually with prayer.
A moment in time each day to pray for those who need God's comfort and care.
Worship services on line will continue until we can meet again.
The service has been reformatted and will be easier to view (fingers crossed)
Your deacons are available via email or phone. We are committed to help however we can.
Ann- 617-943-1629 or adegrechie@hotmail.com
Russ-781-447-5047
Gail – 617-838-2842 or iamgjc@icloud.com
The Lord hears when I call to him. There are many who say, "O that we might see some good!"
Lift up the light of thy countenance upon us, O Lord
In peace I will both lie down and sleep.
For thou alone. O Lord, makest me dwell in safety.
♦♦♦♦♦
<![if !vml]>

<![endif]>
 You're sure to have a great time. Join us August 3-6, 2020 from 9am-12pm. Age 5 years old to 5th grade.
Come to learn the Fruits of the Spirit.
<![if !vml]>

<![endif]>
It's never too early. Click here for Registration Form.
E SITTER® CLASSES9am - 3:30Click
Church and Fellowship hall are available for your event
Please contact the church office for available times and costs
Baby showers- Wedding Showers- Collations
Weddings and Special Events
The fellowship Hall underwent a beautiful face lift.
Check us out when planning that special event.
<![if !vml]>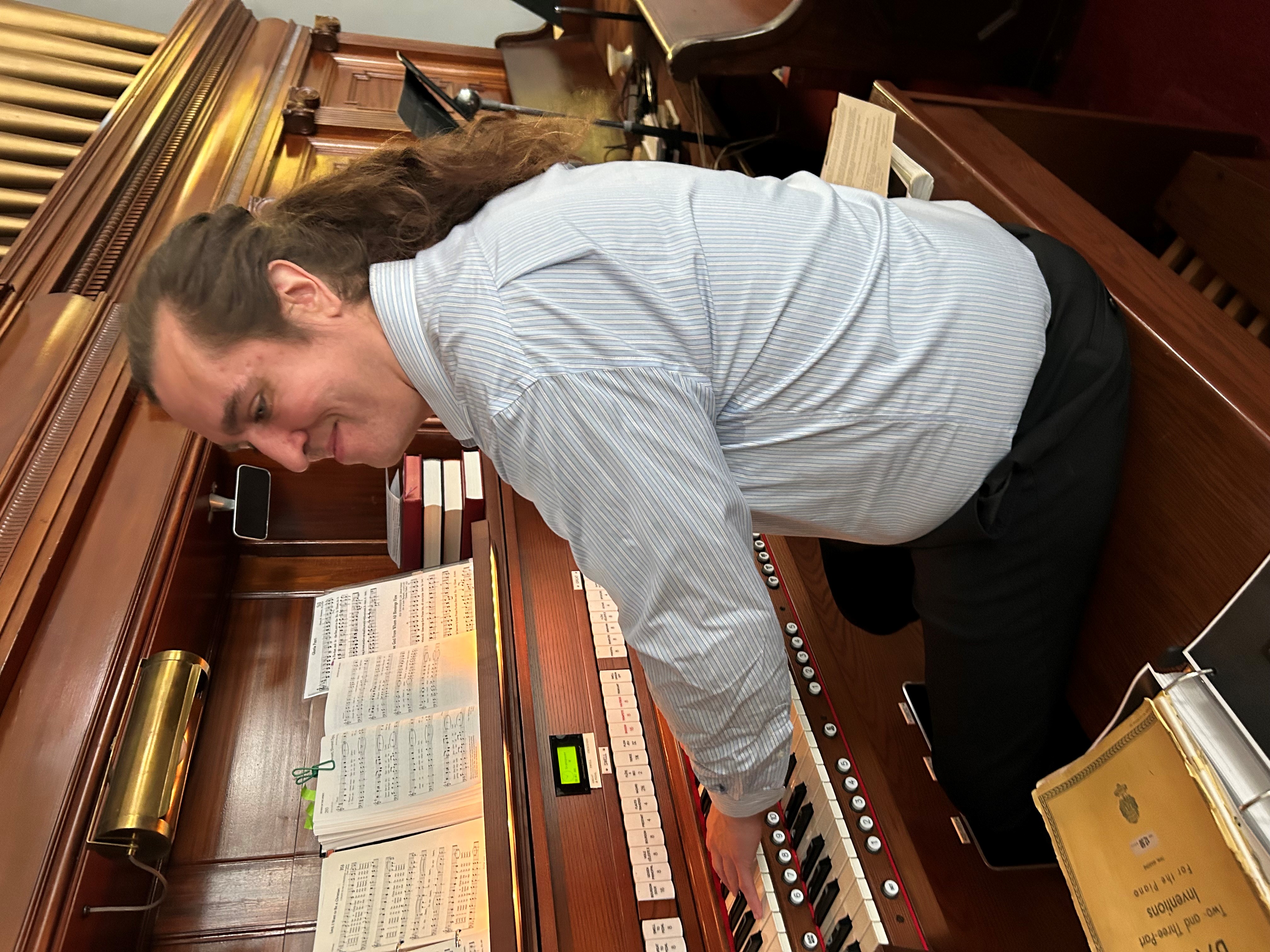 <![endif]>
SUNDAY'S SERMON
for May 17th, 2020
Rev. Richard Giragosian
click here to view Sunday's Sermon
Rev. Giragosian will be preaching during May
and for the first 3 weeks of June 2020.
♦♦♦♦♦
Deacons Mission Breakfast
Last week of June 2020
The Deacons will review mission needs and what we have done for missions over the past year.
They will serve pancakes- ham – muffins with beverage.
♦♦♦♦♦
HOSPICE VOLUNTEERS NEEDED
<![if !vml]>

<![endif]>
Are you looking for a meaningful volunteer opportunity? Consider becoming a hospice volunteer with Hospice of the South Shore. Volunteers provide respite and companionship to our hospice patients in their own homes or in skilled nursing facilities. You will receive training necessary to be the "good neighbor" for those who need your friendship and assistance. Contact Lora Wooster, Volunteer Coordinator, at 781.624.7255 (lwooster@southshorehealth.org) for more information.
♦♦♦♦♦
 Church Openings <![if !vml]>

<![endif]>
Interested in joining a committee or be a representative on the board?
Openings are available for all church members young and not so young.
Learn more at fellowship or by asking a current committee or board member
Or
How about greeting, usher or counting collection? Sign up on the clipboard in the back of the sanctuary.
Thank you for considering taking a more active role in your church as a much-needed volunteer! Any time you can give, is sincerely appreciated.
  "Coming together is a beginning. Keeping together is progress. Working together is success. " Henry Ford
♦♦♦♦♦
Sandwiches for MainSpring
Every month
This wondrous mission program sends 100 lunches each month
Meet in the kitchen just after service – many hands make light the load
♦♦♦♦♦