FEBUARY 2018
123456789012345678901234567890123
Sunday Worship service
Begins at 10:00 AM
Go paperless!!  Now you can give online!!
Click the link below
"Therefore go and make disciples of all nations, baptizing them in the name of the Father and of the Son and of the Holy Spirit, and teaching them to obey everything I have commanded you. And surely, I am with you always, to the very end of the age."
Matthew 28:19-20
Dear Church Family,
The scripture reading from Matthew 28:19-20 is traditionally called "The Great Commission" because it is Jesus sending the disciples out into the world to share his message with all the world.  They were commissioned to be his ambassadors of love and were called to make disciples throughout the world.  This commission is offered to each one of us as well.  We are called to make disciples who know and love Jesus.  Many churches get a little mixed up when they start working on this Great Commission when they start talking about adding members or money or better buildings or more programs or whatever.  That's not what being a disciple forming congregation is about.  Author Dallas Willard put it this way:
Now, some might be shocked to hear that what the church really needs is not more people, more money, better buildings or programs, more education, or more prestige.  Christ's gathered people, the church, has always been at its best when it had little or none of these.  All it needs to fulfill Christ's purposes on earth is the quality of life he makes real in the life of his disciples.  Given that quality, the church will prosper from everything that comes its way as it makes clear and available on earth the life that is life indeed.
Willard's point is that the church doesn't exist to put fannies in the pews on Sunday morning and it doesn't even exist to have the best programs or worship or the prettiest sanctuary.  The church exists to make disciples and to equip them to serve in the world.  A healthy church in a community starts by focusing on the people that are already there and "offers them experiences through which they can deepen their relationships with God, with themselves and with others in community."<![if !supportFootnotes]>[1]<![endif]> Our church is at its best when it doesn't exist as a playground for self-aggrandizement where we pat ourselves on the back because of the things we do. 
Our church is at its best when we work together to show Jesus' love both within the walls of our church and in our community both local and global.  All of our ministries, programs, worship, education, meetings, committees, and missions must be about sharing God's love in the world.  The key is that a disciple forming church doesn't stay inside the walls of their building but goes out into the world with Jesus' love.  When we fail to have this focus we have begun to serve a dying church.
In his book, Facing Decline, Finding Hope, Jeffrey Jones presents some positive outcomes for churches who seek to be disciple forming congregations.
<![if !supportLists]>· <![endif]>Congregations may see the purpose of worship not as attracting new members, but as inspiring current ones to live more fully and faithfully in the world.  When the church lives this way, it will inspire faithfulness in the larger community and growth will be a natural outcome.
<![if !supportLists]>· <![endif]>The congregation will see mission in a different perspective.  Sharing God's love and doing good deeds will be central to the mission of the church.
<![if !supportLists]>· <![endif]>Congregations may begin to believe that education is not so much a matter of learning the right answers as living the faithful life. 
<![if !supportLists]>· <![endif]>Pastoral Care may not only address the healing of people but nurture them in their lives as disciples.
<![if !supportLists]>· <![endif]>The old institutional structure that focused on involving as many people as possible may need to be dismantled, freeing people to be sent rather than kept. 
The important question that then faces a church isn't how do we sustain our institutions, committees, boards and conventions.  The question the church must answer becomes "How do we send people out into the world equipped to do God's work?"
I pray that we can continue to be a disciple forming congregation that isn't afraid to embrace new ideas while being faithful to the traditions that got us to where we are today!  When we work together amazing things can and do happen. 
Peace,
Pastor Josh
♦♦♦♦♦
23456789012345678901234567890123
<![if !vml]>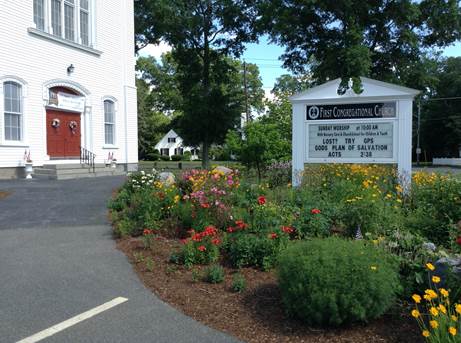 <![endif]>
♦♦♦♦♦
FAMILY MOVIE NIGHT
February 18th   6PM - 8:30PM
Come and enjoy some family time!
We will be watching
Remember the Titans
Please feel free to bring your favorite treat to share and we will have popcorn, coffee and tea.  There will also be room for sleeping bags or blankets.  Bring family and friends to enjoy this family movie.
♦♦♦♦♦
PLEASE JOIN US FOR A
BLOOD DRIVE
Saturday, March 3, 2018
9:00 a.m. to 3:00 p.m.
First Congregational Church of Whitman
519 Washington Street
Whitman, MA 02382
This blood drive is being sponsored by Boston Children's Hospital to honor the memory of Ethan Gray, Pastor Josh and Annie Gray's infant son.
To make an appointment please log onto: 
www.halfpints.childrenshospital.org
Sponsor Code for this drive is FIRSTCONW
or call Annie at 781-252-0982
Please bring positive ID on the day of the blood drive.
Thank You!
Love to sing?
Join the choir and help lead the congregation in song
Practice is Sunday mornings at 9:00AM
Come To church any Sunday to meet the choir/director and for more details about the program
You'll be glad you did
All types of voices welcome.
Church and Fellowship hall are available for your event
Please contact the church office for available times and costs
Baby showers- Wedding Showers- Collations
Weddings and Special Events
The fellowship Hall underwent a beautiful face lift in October
Check us out when planning that special event.