APRIL 2017
Sunday Worship service
Begins at 10 AM
Go paperless!!† Now you can give online!!
Click the link below
♦♦♦♦♦
Dear Church Family,
Have you even been on the phone talking to someone and the signal gets lost but you donít realize it?† Youíve spent a few minutes talking and havenít heard anything back from the person on the other end of the call and then you realize that you had lost your cell phone signal some time ago and you had just been talking to yourself.† The hardest part is not knowing what the person on the end heard last so you donít know where to restart your story!†
†
A few weeks ago, that happened to me when I was talking with a friend about some good news I had received.† I was in the middle of telling him the story about my good news when suddenly, I realized that my friend hadnít said anything for several seconds.† I looked at my screen and it said that we still had a connection but he wasnít saying anything.† Either he had tuned me out and stopped listening (totally a possibility) or something was wrong with the phone.† I said his name several times and waited for a response but did not get one.† I was frustrated because I was fairly sure that he was still on the line, but for some reason my conversation was only working one-way.
†
After hanging up and trying again, we resumed the conversation, but later I got to thinking about my experience and realized that prayer can sometimes feel the same way.† I know that God can hear me when I pray, but when His voice feels silent in my life, I sometimes wonder if the connection only works one-way.
†
Our confirmation class had a conversation about prayer at a recent class and I think it is a conversation that is valuable for all of us.† We started by reading from 1 Kings 19:11-13:
ďGo out and stand before me on the mountain,Ē the Lord told him. And as Elijah stood there, the Lord passed by, and a mighty windstorm hit the mountain. It was such a terrible blast that the rocks were torn loose, but the Lord was not in the wind. After the wind there was an earthquake, but the Lord was not in the earthquake. And after the earthquake there was a fire, but the Lord was not in the fire. And after the fire there was the sound of a gentle whisper. When Elijah heard it, he wrapped his face in his cloak and went out and stood at the entrance of the caveÖĒ
In this story, Elijah was searching for God. First, he looked for Him in a windstorm, then a powerful fire, but God was not in either of those things.† This was a very significant experience for Elijah because God had established a pattern of appearing in these ways over hundreds of years when communicating with His people.† God appeared in a burning bush to Moses in Exodus 3 and in billows of smoke on Mt. Sinai in Exodus 19 with winds that shook the ground.† Despite these patterns, Elijah does not feel Godís presence until he hears the faintest of whispers.
†
Do you ever find yourself expecting Godís voice to come in windstorms and explosive fireworks?
I know that when I am desperately seeking God in prayer, I most often want to hear or see His response in obvious, visible ways.
If I am sick, I pray for healing and want to feel better immediately.
If I need help with a problem, I want a clear solution.
If I am in emotional pain, I want God to make the pain go away.
†
Sometimes, though, I feel the same way I did during my dropped call with my wife.
I talk to God in prayer and feel and see no change.† It is in those moments that I need to remember that Godís voice sometimes comes in a gentle whisper.† He doesnít always work in dramatic ways.† Sometimes it is in the little things that God moves the most.
†
I might not feel healthy right away, but God may nudge me toward the help that I need.† A solution may not present itself to fix my problems, but sometimes God can use the problems to make me stronger.† Iím not a big believer in God inflicting pain or heartache to teach us life lessons, but I do believe that God can take any negative, nasty, horrible situation and bring goodness and light into it.†
†
The pain may not always go away immediately, but sometimes through the pain we are reminded of all that God can do for us and with us.† These are just a few tangible ways that God speaks through a whisper.†
†
How are you looking for God to respond to your prayers?† Maybe the connection hasnít been lostÖMaybe we just arenít listening carefully enough.†
††††††††† Peace,
††††††††† Pastor Josh
1234567890123456789012345678901234567890
<![if !vml]>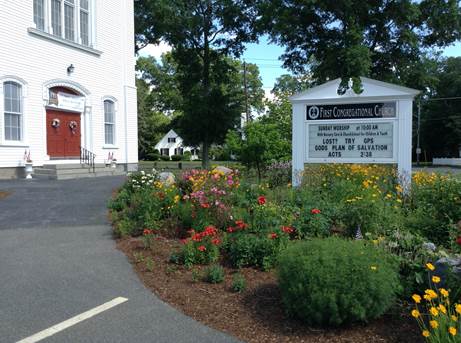 <![endif]>
PALM SUNDAY
April 9th
MAUNDY THURSDAY
April 13th
Join us for a 5pm soup supper prior to 6pm worship service
EASTER SUNDAY
April 16th
Sunrise Service in Whitman Town Park† at 5:30am
Worship Service here at 10am
♦♦♦♦♦
††††††††††††††††††††††††††††††††††
MENís BREAKFAST
Saturday, APRIL 29, 2017
7:30am
Here at 1st Congregational Church Whitman
Sign up sheet in Sanctuary
♦♦♦♦♦
Love to sing?
Join the choir and help lead the congregation in song
Practice is Sunday mornings at 9:00AM
Come To church any Sunday to meet the choir/director and for more details about the program
Youíll be glad you did
All types of voices welcome.
Church and Fellowship hall are available for your event
Please contact the church office for available times and costs
Baby showers- Wedding Showers- Collations
Weddings and Special Events
The fellowship Hall underwent a beautiful face lift in October
Check us out when planning that special event.