MAY 2019
1234567
890123456789067890123
WORSHIP SCHEDULE
10:00 AM Worship
10:30 AM Church School
SECRETARY'S OFFICE HOURS
Monday: Office Closed
Tues. - Thurs. 8-1
Friday 8-12
<![if !vml]>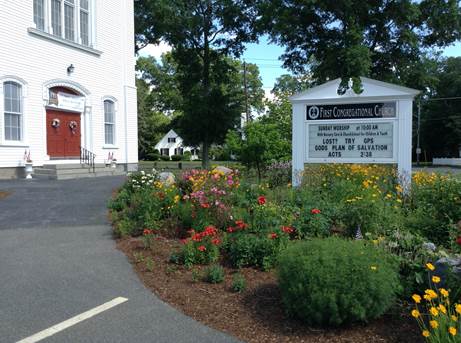 <![endif]>
Margaret Mannke – Secretary
Office phone: 781-447-5557
Go paperless!!  Now you can give online!!
Click the link below
  ♦♦♦♦♦
STRENGTHEN THE CHURCH
OUR SPECIAL OFFERING FOR MAY WILL BENEFIT YOUTH AND CHILDREN
Members and friends of the Massachusetts Conference, UCC:

I write to share exciting news about the Strengthen the Church Offering, one of four special offerings of the United Church of Christ alongside One Great Hour of Sharing, Neighbors in Need, and the Christmas Fund. In the past, the Strengthen the Church Offering has been split equally between National UCC and the Conferences where the funds are received. Its purpose is to help build the future of the UCC which, in the past, has meant supporting youth ministries, leaders for churches in places lacking a strong UCC presence, and the new initiatives of existing churches.

In covenant with National UCC, and in solidarity with our Together, As One partners in Rhode Island and Connecticut who have made a similar determination, your Conference Board of Directors has approved a change in how this offering will be used within the Massachusetts Conference for 2019:
<![if !supportLists]>· <![endif]>Strengthen the Church funds that remain in the Massachusetts Conference will be designated specifically for ministries with children and youth. This is in keeping with the high value of these ministries by all of the Together, As One partners, as well as our Conference's reaffirmed commitment to a core area of mission that is faithful to Jesus' call and essential to our future.
<![if !supportLists]>· <![endif]>50% of income from the offering up to $15,000 will be shared with National UCC. Above this amount, there will be a 10% National–90% Conference split. This will ensure that National UCC receives funding at historic levels while additional Conference funding may be received.
The offering will be used to enhance such Conference ministries as training adult leaders through our CE Certification and Education for Effective Youth Ministry (EEYM) programs, Super Saturday presentations, and church cluster meetings; responding to and resourcing churches in their faith formation ministries; and guiding us all in the challenging work of rethinking what faith formation means in the 21st century.
Blessings,
<![if !vml]>

<![endif]>

The Rev. Don Remick, Transitional Interim Conference Minister
The Strengthen the Church offering will be received here on Sunday, May 12th. Please be as generous as you are able.  Thank you!
♦♦♦♦♦
SAFE SITTER® CLASSES
May 18th from 9am - 3:30pm
Click here for details
Church and Fellowship hall are available for your event
Please contact the church office for available times and costs
Baby showers- Wedding Showers- Collations
Weddings and Special Events
The fellowship Hall underwent a beautiful face lift.
Check us out when planning that special event.
23456789012345678901234567890123
<![if !vml]>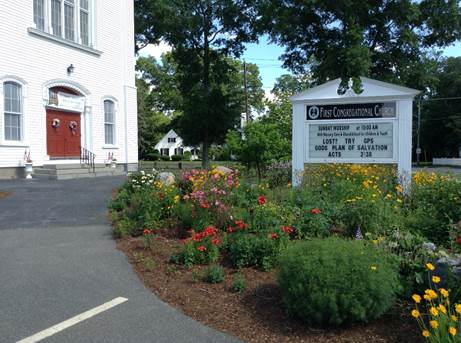 <![endif]>
♦♦♦♦♦
HOSPICE VOLUNTEERS NEEDED
<![if !vml]>

<![endif]>
Are you looking for a meaningful volunteer opportunity? Consider becoming a hospice volunteer with Hospice of the South Shore. Volunteers provide respite and companionship to our hospice patients in their own homes or in skilled nursing facilities. You will receive training necessary to be the "good neighbor" for those who need your friendship and assistance. Contact Lora Wooster, Volunteer Coordinator, at 781.624.7255 (lwooster@southshorehealth.org) for more information.
♦♦♦♦♦
 NEW YEAR-NEW OPPORTUNITIES
Check out the new bulletin board in the fellowship hall
It is full of great mission/community and fundraising ideas
See which one interests you and sign up for your favorite
Not sure if you are ready to coordinate an event? Sign up as a team member instead
Just write your name and add team after it
Email Gail Clement at iamgjc@icloud.com with any questions about any of the programs listed
♦♦♦♦♦
Sandwiches for MainSpring
Every month
This wondrous mission program sends 100 lunches each month
Meet in the kitchen just after service – many hands make light the load
♦♦♦♦♦