MAY 2017
Sunday Worship service
Begins at 10 AM
Go paperless!!  Now you can give online!!
Click the link below
♦♦♦♦♦
Dear Church Family,
On May 7th, we will have the wonderful opportunity to baptize several youths from our church.  These young adults have been a part of our church family as children and in this act of Confirmation they are stepping into a new role within the church family.  They are no longer the little kids many of you may remember them as. They have worked over the course of the past year on their faith by asking difficult questions and learning more about what it is they do and do not believe.  I am so proud of each of these kids and all the work and commitment that they put into this class. 
Many of you may remember your own Confirmation day.  Most of us remember a day long ago when we underwent a rite of passage called, "Confirmation". I remember my own Confirmation day and how much it meant to my family.  To me, it meant that I was going to have a party and my family and friends were going to give me money!  Confirmation was, so I thought, a time in which I had "earned" my "membership" in the church, by suffering through classes with the pastor. I figured I had finally jumped through the hoops necessary to earn a place in the church family. Boy, was I wrong.
Now as a pastor, I am on the other side of the Confirmation equation. And I find many children and adults think the same about this churchly practice as I used to. But since Confirmation day is just around the corner, here's some reminders for those of us who are being confirmed and for those of us who have already been confirmed:
Confirmation is connected to Baptism. In fact, that's what is really being "confirmed". God's promises made to us in the waters of our baptism are recalled and affirmed through the rite of Confirmation.
Confirmation is a church tradition with a long history, but it is just that, a tradition. There is nothing that says we must have Confirmation a certain way, or even have it at all.  We choose to offer Confirmation classes to our young adults because we see the value of introducing them to the tough questions and bright spots that our faith tradition carries. 
And Confirmation is an opportunity for our young people to publicly confess their faith, both in renewing baptismal vows, and in a personal statement they have prepared.
Now on the other hand Confirmation is NOT:
"Graduation" from church. If anything, it's a new beginning, a new phase of even greater participation in the life of the church.
A Sacrament. Confirmation does not offer any special blessings to the confirmands that are not already ours in Baptism. But it does powerfully recall those Baptismal blessings.
A hoop to jump through to gain some special privilege.
Confirmation is not the end of the faith journey for our Confirmands either.  Much of the academic world today encourages "lifelong learning."  And the church has always done the same. We have never studied enough, learned enough, or heard enough of what Jesus has to say to us.
So, let us pray for our young people who recall their baptism and confirm their baptismal vows on May 7th.  Pray that God would continue to strengthen them in their faith, through his word, and by the love of this church.
Peace and Blessings,
Pastor Josh
1234567890123456789012345678901234567890
<![if !vml]>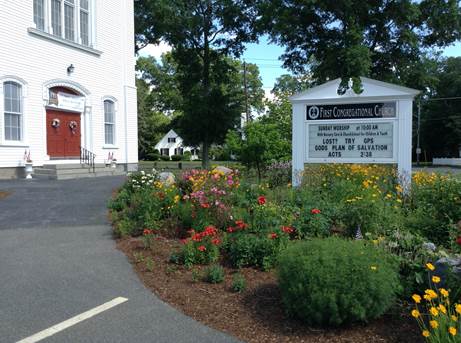 <![endif]>
SPRING CRAFT & VENDOR FAIR
Saturday, May 13th, 2017
9:00 AM to 2:00 PM
First Congregational Church
519 Washington St., Whitman
(Proceeds help support our Main Spring mission)
Crafters & Vendors Welcome
For more information call :
Christina (508) 468-4518
♦♦♦♦♦
Love to sing?
Join the choir and help lead the congregation in song
Practice is Sunday mornings at 9:00AM
Come To church any Sunday to meet the choir/director and for more details about the program
You'll be glad you did
All types of voices welcome.
Church and Fellowship hall are available for your event
Please contact the church office for available times and costs
Baby showers- Wedding Showers- Collations
Weddings and Special Events
The fellowship Hall underwent a beautiful face lift in October
Check us out when planning that special event.