JUNE 2017
Sunday Worship service
Begins at 10 AM
Go paperless!!† Now you can give online!!
Click the link below
♦♦♦♦♦
Dear Church Family,
There is one thing that is almost completely irreplaceable in this lifeÖtime.† You canít go back in time, you canít buy more time, you can use time only once and then it is gone, it is past, it has that use-only-once quality.† Each of us is only given a certain amount of time in our lives and we are called to use it well.† For everyone, time is an important commodity.
How each of us use our time is generally something that we decide on our own and sometimes others choose it for us (such as your boss at work!) Some have extra time on their hands (some retired people) and for others there just isnít enough time during a day to do what you want to do or need to do (most mothers with little ones or care-givers of a relative). There usually is an amount of time that you pretty much have no control over Ė like sleeping, working, traveling to and from that job, eating, bathing, shopping for food and clothing, cleaning, washing clothes, etc.Ö And the list can go on and on and on. What you may have left during a day, that is unaccounted or unspoken for, can be very little or can be abundant, depending on your own individual circumstances. It is what you do with that time that is important.
There are many within our congregation who spend large amounts of their precious time helping others, working around the church, teaching Sunday School, volunteering on a Ministry or Committee of the church.† If you spend some of your precious time unselfishly helping others, then to YOU I say THANK YOU!† THANK YOU!† THANK YOU!†
As a church, we wanted to find a way to say thank you to all our volunteers and we came up with the idea of having a volunteer appreciation Potluck Brunch on Sunday June 11th!† This brunch will take the place of our regular worship service and will be held in the fellowship hall.†
We will gather around 9:45 with all our food, and worship together as we eat!† This is also Childrenís Sunday so the children of the church will have a few things to share with us that morning as well.† More information will come as we get closer along with a sign-up sheet to see who is bringing what for brunch so we donít wind up with 25 ham and cheese quiches!† We hope that everyone can come and enjoy our Volunteer Appreciation Brunch and Childrenís Sunday Worship on June 11th!†
Peace and Blessings,
Pastor Josh
1234567890123456789012345678901234567890
<![if !vml]>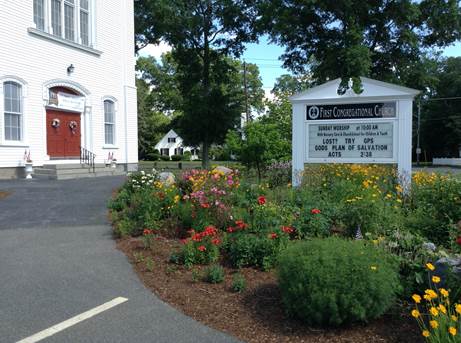 <![endif]>
LEFT-CENTER-RIGHT TOURNAMENT
A fundraiser to benefit our church will be held at:
†The Polish Club (upstairs)
55 Wales Street,
Abington, MA†
Friday, June 16th, 2017
check-in at 7:00 pm
†Games start at 7:30 pm
$20 Entry fee with a $500 cash prize
Reserve your spot or a whole table with friends.
Space is limited
Benefits - The First Congregational Church of Whitman
For more information contact - Christine @ 781-447-4642
♦♦♦♦♦
Love to sing?
Join the choir and help lead the congregation in song
Practice is Sunday mornings at 9:00AM
Come To church any Sunday to meet the choir/director and for more details about the program
Youíll be glad you did
All types of voices welcome.
Church and Fellowship hall are available for your event
Please contact the church office for available times and costs
Baby showers- Wedding Showers- Collations
Weddings and Special Events
The fellowship Hall underwent a beautiful face lift in October
Check us out when planning that special event.