What does THE BOARD OF MISSION & SOCIAL ACTION do?
This board shall
encourage the involvement of lay people in the life, work, mission, and ministry of the church
be aware of current and denominational needs

through

our projects, tell the Christian story to the whole church and community.
Some of the Board of Mission & Social Action programs our church sponsors and encourages everyone to participate in are:
<![if !supportLists]>

<![endif]><![if !vml]>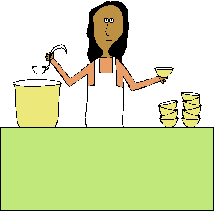 <![endif]>Child Reach-at present we are sponsoring 2 children-one in Zimbabwe, Africa and one in Columbia.
<![if !supportLists]>

<![endif]>Angel Tree-during Advent a tree is set up in the sanctuary with paper angels attached. Each angel has the name, age and size of a child. People bring gifts of warm clothing which are delivered to Mainspring House to be delivered to scatter sites in Brockton.
<![if !supportLists]>

<![endif]>The Whitman Food Pantry is an ongoing project with both food and paper goods brought to the church and a monetary collection each November.
<![if !supportLists]>

<![endif]>Bag Lunches for Mainspring House-once a month 100 bag lunches are made and delivered to Mainspring House which are given to the people who must be on their own during this day.
<![if !supportLists]>

<![endif]>Heifer International is an organization in which various animals are given to need families both in America and abroad.
<![if !supportLists]>

<![endif]>SERRV-an ongoing sale of items from A Greater Gift, a non-profit organization. During fellowship time, articles are for sale which are made by people in developing countries.
<![if !supportLists]>

<![endif]>Habitat for Humanity-In the past few years we have helped building and preparing lunches for 3 houses built in Whitman.