First News

For

OCTOBER 2019

<![if !vml]><![endif]>
BOARD MEETING – Tuesday, September 17, 2019
SUMMARY
The ministerial search process continues - the Search Committee has begun to plan, execute, and discuss preliminary interviews.  The profile is posted on the UCC website. 
The By-Laws subcommittee has been working on by-law revisions to deal with Board composition, membership, and church dissolution by looking at both prior and current versions and suggesting possible changes.  The Board reviewed and discussed the drafts and made recommendations as well.  The subcommittee will edit the drafts accordingly for review again next month. 
Committee representatives gave their reports.  The Board is grateful for all the work undertaken by the deacons who have succeeded in lining up the organist for second and fifth Sundays next year and filling pulpit supply through the end of this year.  The Tri-Town Reunion Sunday did not include any representation from our church despite the deacons having reached out in advance with plans to participate and coming prepared; follow-up communication is planned.
The Treasurer reported that church contributions to operations were positive in July and August with a year-to-date surplus, mainly owing to the fact this is due to decreased expenses in the ministerial portion of the budget.  For this year, pulpit supply is funded from this budget line and is a much lower cost than paying a minister salary and benefits.
Details of implementing the new state law for Family Leave and Medical Act has finally been settled.  Fortunately for the church, employers who are exempt from paying into unemployment taxes are now also exempt from participating in this new program.  Non-profits, agricultural businesses, and churches are part of this exempt group.
The Stewardship & Finance Committee has reached out to five firms to request information on how their firms would handle the church's investment portfolio.  As responses arrive, the committee plans to review and interview each firm and ultimately ask for a presentation to be given to the Board and the entire church congregation.
All committees have been asked to submit their budget requests by November 1 so that work can begin on drawing up the 2020 budget in November.
Fundraising is ramping up in the fall with pumpkins being delivered on October 5.  The Vendor Fair is slated for October 19.  These two fundraisers will benefit church operations.  A bake sale is planned on September 29 to benefit Mainspring while a Pasta Fundraiser will begin on September 22 with proceeds being split between church operations and mission support.
The Board discussed the need to continue to develop program offerings that would appeal to the greater community with the express purpose of church exposure and community involvement.  It is hoped that this would result in increased goodwill and possibly increased membership. The events/ fundraising group has already developed a number of ideas and seeks volunteers and leaders to help carry them out.
Next meeting is Tuesday, October 15, 2019 at 7:00 at the parsonage.
<![if !vml]>
<![endif]>
<![if !vml]>

<![endif]>MINISTRY OF CHRISTIAN EDUCATION
Hello Everyone,
I hope all went smoothly with Back to School!!
Christian Education met on September 4, 2019. We discussed Sundae Sundays. Went smoothly not as many consistent children as we would like but truthfully any child attending makes it worth it. Children are incredible just seeing them learn the lessons gives you the feeling that Jesus must have felt seeing all the children.
Teachers and helpers are needed. All are encouraged and welcomed. Why not come out and spend some time with the younger generation. They may surprise you! They are so eager to learn. Every week they learn something, even if it is social skills and how to communicate without technology. I understand people feel like they are exhausted from always volunteering and/or the same people step up and help. Do you think Jesus felt that way? A lot of you feel that your children are all grown up and you shouldn't have to volunteer. Think of it this way, what a great opportunity to spend time and give your knowledge to the younger generation. You do not need to have children enrolled in Sunday School to participate and volunteer. You might realize you miss it and would like to offer your time. You will not regret it - take that chance.
We are going to continue having craft days. We need this since our teachers and helpers have other engagements and will not be able to be there for the class. This is another reason I ask for teachers and helpers. On the days we have no teachers, the children will be staying upstairs during the sermon. I have tried numerous ways to ask for help.
Rally day was September 15th. We started off with a bang! We had crafts, games, and food!! What a great combination and way to welcome you all back with a celebration. I went around with my lovely clipboard with the Sunday School Registrations and Cori forms for those who would like to volunteer. Please also note that the Registration Form is on our website and enclosed in this newsletter. We need all children registered.
Our October meeting, we will be discussing in depth the structure and class sizing based on our registered children in the program as well as the number of teachers and helpers. Any meeting is open to you. We will leave the door open!
Save the Dates (please note: dates may be tentative but will be confirmed closer to the event-thank you):
Sept. 15th Rally Day (first day of Sunday School)
Nov. 17th – Craft Day
Dec. 1st Advent Workshop
Dec. 15th Children's Christmas Pageant
Dec. 22nd Happy B'Day Jesus cake (Children's Christmas Pageant snow day)
Jan. 26th Craft Day
March 29th Craft Day
May 3rd Craft Day
The CE's next meeting is Wednesday, November 6, 2019 – guests are welcome anytime.
God Bless,
Donna McGlinchey
Chair of the CE
Birthday Blessings to Lillian Horner as she celebrates her 100th birthday this month!  A celebration is being planned for her at church, but the exact date for that has not yet been set.
 <![if !vml]>
<![endif]>  Our Prayers and  Sympathy
are with the family and friends of Steve DeGrechie, husband of Ann DeGrechie, who died on August 25th following a courageous battle with cancer.  There will be a Celebration of Life Memorial Service on Saturday, November 16th ,  here at the church. A Collation will follow in Fellowship Hall. All are welcome to attend! 
REMEMBER IN PRAYER  THOSE WHO ARE HOMEBOUND,
IN ASSISTED LIVING OR NURSING HOMES 
Dorothy Brundige at home; Winnie Robinson & Bud Talpey at All American Assisted Living,  Hanson.  
 <![if !vml]>
<![endif]>
 FELLOWSHIP PIZZA PARTY
Everson Bible Class with Chi Kappa
 The Everson class is slowly growing smaller as we are getting old and many of us are not as mobile as we'd like.
At this time there is no meeting date planned, although if there is a Christmas Tea later, that may be the date we select.
Gail Clement has proposed an idea that seems very interesting.  She envisions the group expanding to include new younger members and adding missions to its work.  This is very interesting and should be very workable. 
Operation Christmas Child From Chiltonville 2018
209 boxes have been delivered to all drop off locations.  Thank you for your generosity ~~ in purchasing so many boxes for us, in filling (almost to over-flowing!) so many of your own boxes, in encouraging your church friends to participate, and
lastly for collecting money for the postage.  Your church is very generous, and we are grateful.
 I like to imagine the faces of the children when they go through the layers of gifts in the tightly packed boxes.  And I also like to think about the joy of these children when they hear the Gospel message ~~ the Good News of Jesus' love for them, ~ for the first time.'
  ~  Wendy Begin, OCC Co-Ordinator
The above was received last year and since it is 'Shoebox' time once again, wanted our church to know we are appreciated for our efforts even before the boxes reach their ultimate destinations.
This year, in addition to those who have been filling boxes independently, we have about 20 already filled and stored at church. We earlier asked people to buy school supplies and other items for shoes.
 <![if !vml]>

<![endif]> 
 PUMPKINS ARRIVE OCTOBER 5th! 
Help is needed for unloading, snack detail or cheerleading! The patch will be open from 10:00-5:00 PM each day! Signup sheets for shifts in downstairs foyer. For more information contact chief gourd Gail Clement at (617) 838-2842 or iamgjc@icloud.com
<![if !vml]>
<![endif]>
Rally Day
<![if !vml]>

<![endif]><![if !vml]>

<![endif]>
The diaconate carefully prepared for the Rally Day Sunday Worship Service.  The sanctuary was decorated with colorful balloons hanging from the balcony or floating in the choir area.  The whole program was written by our dedicated deacons and included songs, a children's story, which several of our youth enjoyed, and the sermon with all members taking part.
At fellowship time they prepared a pizza lunch for all to enjoy.  And we did!  It was wonderful. Thank you, Deacons!
*************************************************************** <![if !vml]>
<![endif]><![if !vml]>
<![endif]>
  MainSpring Meals  We have two groups who supply meals to Mainspring, a group home in Brockton with whom our church works.
On Rally Sunday, the Bag Lunch group prepared lunches for Monday's Lunch at MainSpring.  The MainSpring Bag Lunch Program began more than 25 years ago by June Millett.  At that time there was a "Mile of Pennies"  banner across the doors on the stage to indicate funds being raised for the project. 
Also monthly on the first Saturday of the month, a second group either prepares a meal and/or serves one at MainSpring.  The cost for the Bag Lunch Program or the complete meal has increased over the years and any contribution to this project would be welcome.  Just add it to you regular church offering and indicate MS Meal on the blank line. Thank you!
<![if !vml]>

<![endif]>
  <![if !vml]>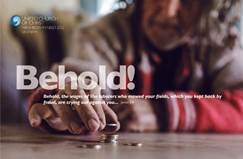 <![endif]>COMMITTEE UPDATE            
The Search Committee has been busy reviewing some candidate's profiles for a Minister. So far, they have interviewed one candidate by Skype. The Committee has developed a list of questions to be asked of all interviewed candidates to ensure consistency among the applicants. One of the concerns about our package is that Health Insurance is a negotiable compensation item but will need to determine when the time comes for negotiations.
 NEIGHBORS IN NEED
is the Special Offering for October<![if !vml]>

<![endif]>
Neighbors in Need (NIN) is a special mission offering of the United Church of Christ that supports ministries of justice and compassion throughout the United States. One-third of NIN funds support the Council for American Indian Ministry (CAIM). Two-thirds of this offering is used by the UCC's Justice and Witness Ministries (JWM) to support a variety of justice initiatives, advocacy efforts, and direct service projects through grants. Neighbors in Need grants are awarded to UCC churches and organizations doing justice work in their communities. These grants fund projects whose work ranges from direct service to community organizing and advocacy to address systemic injustice. This year, special consideration will be given to projects focusing on serving our immigrant neighbors and communities. The 2019 theme is "Love of Children" and a collection will be taken up for this special offering on Sunday, October 20th. Please be as generous as you are able. Thank you!
 A word, or two or three, from the <![if !vml]>

<![endif]>:
The deacons are available for any concerns or requests for assistance. There is a deacon of the month, but any one of us is available to help.
We do have access to area ministers and can help with contacting one for you.
Please help by notifying us if you know of anyone who is ill, has a special prayer request, needs a ride to church or would like to be visited.  We want everyone to have access to pastoral care if it is needed.
Yours in faith, Ann DeGrechie  (617) 943-1629, Russ Greene  (781) 447-5047, Gail Clement  (617) 838-2842
 FINANCE COMMITTEE  REQUEST <![if !vml]>
<![endif]>
Budget from all boards and committees are due in Nov. 1st at the latest!!!
<![if !vml]>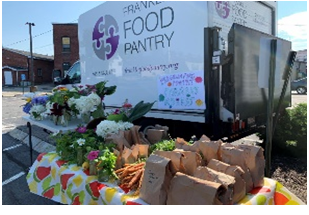 <![endif]>
First Congregational Church
Holiday
Vendor/craft fair
Saturday, October 19, 2019;
10am – 3pm
Need to do some holiday shopping? Need to start or finish? Whatever your reasoning is, come on down for some holiday cheer and shopping. With a variety of over 25 Vendors/Crafters, you're sure to find something for everyone to enjoy.
Raffles, Goodies, Food, Drinks, and Stress-Free Fun.
Stay as long as like.  Make it a day and visit every Vendor/Crafter.
 Sneak peak of the various vendors/crafters:
Young Living Essential Oils; Baked Goods; M-Global; Tupperware; Jewelry; Beauty Companies; Candles; Home-Made Goodies; Handmade items; plus, many more!
You'll just have to come and see the rest!