THE STEWARDSHIP & FINANCE COMMITTEE
<![if !vml]>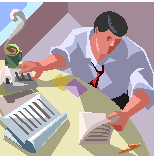 <![endif]>Did you enjoy accounting class in school?  Then perhaps you'd find your calling on the Stewardship & Finance Committee.
Our committee consolidates the budgets submitted to us by the other church committees and boards.  We then present this consolidated budget to the Church Council and participate in presenting it at the Annual Meeting in January.
We also create, distribute, and present Stewardship information to the Congregation to assist members to make a meaningful financial commitment to the church.  These funds are used in many ways: to pay the pastor, support our mission projects, purchase church school educational materials, and maintain the church building, just to name a few!  We also order and distribute offering envelopes and cards to church members.  These envelopes make it easy to track your giving so that you may deduct your contributions from your taxes.
The committee meets monthly so the Treasurer can report on the status of church finances.  At this time we also plan and take action on our duties.