MAY 2021
WORSHIP SCHEDULE
10:00 AM Worship
11:00 a.m.: Fellowship
<![if !vml]>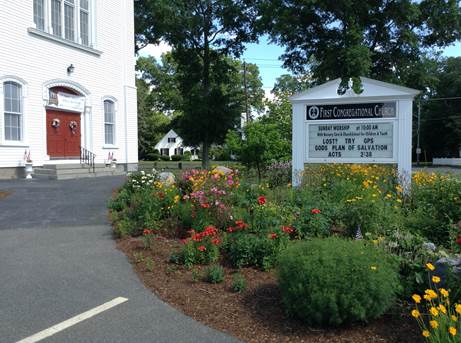 <![endif]>
Margaret Mannke – Secretary
Office phone: 781-447-5557
Sexton: Todd Decoto
Organist:  Linda San Martin-Brown
Go paperless!!  Now you can give online!!
Click the link below
  ♦♦♦♦♦
Upcoming Events
♦♦♦♦♦
Wednesday Wonderings – May 5th, 2021
May Mission- Birthday Bags
It is our yearly collection of Birthday Bags for the Whitman Food Pantry.
Simply fill a child theme gift bag with the following items.
1 box of cake mix
1 container of frosting
1 package of candles
1 package each of birthday plates, cups and napkins
1 birthday themed tablecloth
Thank you for your generous support of our mission program.
Kids remind your parents to watch for the Sunday School Zoom invitation!
From Pastor Scott
HAPPY MOTHER'S DAY  
Carnation Sunday to celebrate the women we hold dear in our hearts
She is strong and respected and not afraid of the future.
She speaks with a gentle wisdom.
She is always busy and looks after her family's needs.
Her children show their appreciation, and her husband praises her
He says, "Many women are good wives, but you are the best of them all."
Charm is deceptive and beauty disappears, but a woman who honors the Lord Should be praised.
Give her credit for all she does.
She deserves the respect of everyone.
 ~Proverbs 31:25-31 Good News Bible
From the desk of Scott…..
Thank you to our Christian Ed committee for a wonderful Children's Sunday School Zoom this past Sunday. Rachel Eaton and Lauretta Boyce did a marvelous team effort of creating a terrific craft project, and delivering the materials to homes of the children.
The next Children's Sunday School will be June 13th on the church grounds. The preliminary plan is to host a scavenger hunt and pizza lunch for our children and their families immediately after worship concludes. There will be more details in the weeks ahead.
"I can imagine no heroism greater than motherhood."
~Lance Conrad
Upcoming
May 24th – Newsletter deadline
June 6th – Memorial Service for Nancy McLaughlin at 2PM. All welcome to attend.
June 13th – Children's Sunday
Please pray for:
Church member and uncle to Diane Iverson, Donald N., fell and broke his hip. He has had successful hip replacement surgery and will soon be discharged from the hospital to go rehab.
.
♦♦♦♦♦
Good news! As of Sunday, June 7th 2020 we are able to worship in the sanctuary.
Strong measures are being taken to disinfect and prepare for distant seating.
MASKS MUST BE WORN BY EVERYONE ATTENDING – PLEASE REMEMBER TO BRING YOURS
Signs have been posted on doors leading into the fellowship hall, nursery, kitchen and classrooms.
The Trustees ask that everyone pay close attention and not to enter areas that are closed or have restricted use.
Church Support
Thank you for continuing to drop off, mail in or do online payments of your offerings.
Please do not hesitate to contact her at (617)943-1629 or via email at adegrechie@hotmail.com
We are all "Together in Faith"
♦♦♦♦♦
Church and Fellowship hall are available for your event
Please contact the church office for available times and costs
Baby showers- Wedding Showers- Collations
Weddings and Special Events
The fellowship Hall underwent a beautiful face lift.
Check us out when planning that special event.
<![if !vml]>
<![endif]>
SUNDAY'S SERMON
for December 13th, 2020
Click here to view Sunday's sermon
♦♦♦♦♦
All Ages Welcome
Volunteers needed – signup sheets in sanctuary.
Acolyte Offering
Bell Ringer Tech Support
Or
Plan a new mission project or community event.
♦♦♦♦♦
HOSPICE VOLUNTEERS NEEDED
<![if !vml]>

<![endif]>
Are you looking for a meaningful volunteer opportunity? Consider becoming a hospice volunteer with Hospice of the South Shore. Volunteers provide respite and companionship to our hospice patients in their own homes or in skilled nursing facilities. You will receive training necessary to be the "good neighbor" for those who need your friendship and assistance. Contact Lora Wooster, Volunteer Coordinator, at 781.624.7255 (lwooster@southshorehealth.org) for more information.
♦♦♦♦♦
 Church Openings <![if !vml]>

<![endif]>
Interested in joining a committee or be a representative on the board?
Openings are available for all church members young and not so young.
Learn more at fellowship or by asking a current committee or board member
Or
How about greeting, usher or counting collection? Sign up on the clipboard in the back of the sanctuary.
Thank you for considering taking a more active role in your church as a much-needed volunteer! Any time you can give, is sincerely appreciated.
  "Coming together is a beginning. Keeping together is progress. Working together is success. " Henry Ford
♦♦♦♦♦
Sandwiches for MainSpring
Every month
This wondrous mission program sends 100 lunches each month
Meet in the kitchen just after service – many hands make light the load
♦♦♦♦♦
Wednesday Wonderings will be the resource for updates on worship services and prayer requests.
Please email Gail at iamgjc@icloud.com with joys and concerns to share.
A live Facebook broadcast (available also as a link on this website) will be available each Sunday until further notice.
God Cares. Yesterday today and tomorrow
All over the world folks are doing what they can to support and give comfort in this time of uncertainty.
Everything has changed but God is our constant.
God will comfort the grieving and give strength to those who are in need
There is hope found through prayer and our continued faith that God will be there for all of us.
Our church family is amazing when called upon to help.
Some ideas.....
Fill the plastic container outside the parking lot door with food for the food pantry
Drop off cards in the office mail box to be mailed to area nursing homes or our shut-ins.
Put a sign with a word or picture of encouragement in a window or in your yard
Every day at 3PM let's all take a moment to connect spiritually with prayer.
A moment in time each day to pray for those who need God's comfort and care.
Your deacons are available via email or phone. We are committed to help however we can.
Ann- 617-943-1629 or adegrechie@hotmail.com
Russ-781-447-5047
Gail – 617-838-2842 or iamgjc@icloud.com
The Lord hears when I call to him. There are many who say, "O that we might see some good!"
Lift up the light of thy countenance upon us, O Lord
In peace I will both lie down and sleep.
For thou alone. O Lord, makest me dwell in safety.
♦♦♦♦♦