JULY 2021
WORSHIP SCHEDULE
10:00 AM Worship
11:00 a.m.: Fellowship
SUMMER WORSHIP HOURS
Starting on Sunday, June 20th we will begin worship service at 9:30am
Sanctuary is Prayer - conditioned!
<![if !vml]>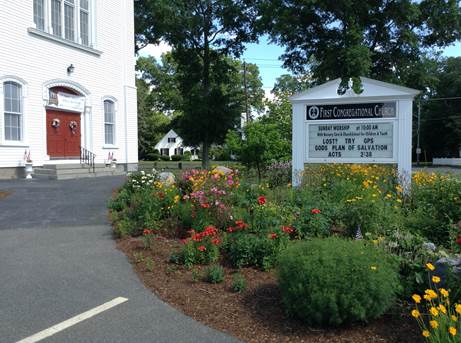 <![endif]>
Margaret Mannke – Secretary
Office phone: 781-447-5557
Sexton: Todd Decoto
Organist:  Linda San Martin-Brown
Go paperless!!  Now you can give online!!
Click the link below
  ♦♦♦♦♦
Upcoming Events
♦♦♦♦♦
Wednesday Wonderings – July 28th, 2021
"In cathedral or cottage, the art of worship is an inner adventure;
It is the personal practice of the presence of God."
Wilfred A. Peterson
Summer Special Service – Sunday, August 15th
Mission Breakfast with special guest from Habitat for Humanity
Service will be held in the fellowship hall. Breakfast will be served starting at 9:00 AM.
Bring your neighbors and friends for this special worship service.
Please email Gail at iamgjc@icloud.com with approximate number attending.
And later the same day!  1PM to …
Church gathering at Lauretta and Richard Boyce's home
Bring your bathing suit and something to share to eat or drink
A fun and simple gathering for our church family to visit with each other
Please email Gail at iamgjc@icloud.com for address and with approximate number attending
Upcoming
Fall will be here sooner than we know it!  Sign up soon to be an Usher or teach Sunday School
Sign up sheets on the back table
Have questions about time commitment or expectations? Email uccwhitman@gmail.com and it will be forwarded to someone who can help.
From the Desk of Scott
"With man this is impossible, but with God all things are possible."
Matthew 19:26
To say that I am made in the image of God is to say that love is the reason for my existence, for God is love.   Love is my true identity. Selflessness is my true self. Love is my true character. Love is my name.
Thomas Merton
This week, please join me in praying for medical professionals and scientists in their continued battle with COVID-19 through treatment and research.
Pastor Scott
Prayers
for the family of Meredith Gould, who passed away on Tuesday, July 20th. Meredith attended this church for several years.
Arrangements have been made through Blanchard Funeral Chapel.
 Mask restriction lifted (if fully vaccinated)!
This Sunday, June 6th, anyone fully vaccinated is not required to wear a mask.
Social distancing guidelines will remain for another week until June13th service.
♦♦♦♦♦
Church and Fellowship hall are available for your event
Please contact the church office for available times and costs
Baby showers- Wedding Showers- Collations
Weddings and Special Events
The fellowship Hall underwent a beautiful face lift.
Check us out when planning that special event.
<![if !vml]>
<![endif]>
SUNDAY'S SERMON
for December 13th, 2020
Click here to view Sunday's sermon
♦♦♦♦♦
All Ages Welcome
Volunteers needed – signup sheets in sanctuary.
Acolyte Offering
Bell Ringer Tech Support
Or
Plan a new mission project or community event.
♦♦♦♦♦
HOSPICE VOLUNTEERS NEEDED
<![if !vml]>

<![endif]>
Are you looking for a meaningful volunteer opportunity? Consider becoming a hospice volunteer with Hospice of the South Shore. Volunteers provide respite and companionship to our hospice patients in their own homes or in skilled nursing facilities. You will receive training necessary to be the "good neighbor" for those who need your friendship and assistance. Contact Lora Wooster, Volunteer Coordinator, at 781.624.7255 (lwooster@southshorehealth.org) for more information.
♦♦♦♦♦
 Church Openings <![if !vml]>

<![endif]>
Interested in joining a committee or be a representative on the board?
Openings are available for all church members young and not so young.
Learn more at fellowship or by asking a current committee or board member
Or
How about greeting, usher or counting collection? Sign up on the clipboard in the back of the sanctuary.
Thank you for considering taking a more active role in your church as a much-needed volunteer! Any time you can give, is sincerely appreciated.
  "Coming together is a beginning. Keeping together is progress. Working together is success. " Henry Ford
♦♦♦♦♦
Sandwiches for MainSpring
Every month
This wondrous mission program sends 100 lunches each month
Meet in the kitchen just after service – many hands make light the load
♦♦♦♦♦
Wednesday Wonderings will be the resource for updates on worship services and prayer requests.
Please email Gail at iamgjc@icloud.com with joys and concerns to share.
A live Facebook broadcast (available also as a link on this website) will be available each Sunday until further notice.
God Cares. Yesterday today and tomorrow
All over the world folks are doing what they can to support and give comfort in this time of uncertainty.
Everything has changed but God is our constant.
God will comfort the grieving and give strength to those who are in need
There is hope found through prayer and our continued faith that God will be there for all of us.
Our church family is amazing when called upon to help.
Some ideas.....
Fill the plastic container outside the parking lot door with food for the food pantry
Drop off cards in the office mail box to be mailed to area nursing homes or our shut-ins.
Put a sign with a word or picture of encouragement in a window or in your yard
Every day at 3PM let's all take a moment to connect spiritually with prayer.
A moment in time each day to pray for those who need God's comfort and care.
Your deacons are available via email or phone. We are committed to help however we can.
Gail Clement: 781-447-4052
Russ Greene: 781-447-5047
Wayne Brundige: 781-447-1021
Frank Kawa: 781-308-5511
The Lord hears when I call to him. There are many who say, "O that we might see some good!"
Lift up the light of thy countenance upon us, O Lord
In peace I will both lie down and sleep.
For thou alone. O Lord, makest me dwell in safety.
♦♦♦♦♦