First News

For

FEBRUARY 2021

<![if !vml]><![endif]>
<![if !vml]>

<![endif]>  PASTOR'S NOTE
Winter is often branded as a time of depression and recession for our spiritual, emotional, and physical conditions. As spiritual travelers, God does not call us to hibernate from December through March. Indeed, there are still a multitude of opportunities and possibilities that await us serving Christ through the coldest of months. Seek God's vision on how your voice might be amplified to help those in need who God brings across your life path this winter.
"How many lessons of faith and beauty we should lose, if there were no winter in our year!" — Thomas Wentworth Higginson
For our friends and congregation members, I am available seven days a week as a partner in prayer, listening ear, or shoulder to lean upon.
Rev. Scott
Cell (423) 637-5813
*****************************************************************************
An Update from the <![if !vml]>
<![endif]>
February 2021
The Finance Committee has finalized, and the Board has approved the 2021 budget for presentation at the upcoming Annual Meeting on February 14. Copies will be included in the Annual Report. Ron has nearly completed calculating the numbers for 2020 expenses to close the books. He reports that the church has a slight surplus for the year.
Pledges thus far have somewhat surpassed last year's total at the same point in time with over $58,000 committed and still counting. Included in this total are pledges from a few members who have opted to make an anonymous pledge. Next year's budget will be somewhat higher than this year's so pledge totals are both encouraging and welcome news.
The committee is finalizing the way investment information is presented in reporting. The good news is that the entire portfolio is performing well. We have just closed out two maturing CD's held at Abington Bank for transfer to Bartholomew & Company and will close two more in a few weeks, leaving one remaining CD in existence until it matures late this year.
We thank everyone for your ongoing support in helping us tend to the financial side of the church!
BOARD MEETING SUMMARY  <![if !vml]>

<![endif]>
Tuesday, January 19, 2021
The Board held a virtual meeting via Zoom with Pastor Scott leading us in prayer.
The minutes of the December 15, 2020 meeting were approved as submitted.
With Annual Meeting taking place in a few weeks, the Board discussed whether to change the date from Sunday, February 14 to the week before or the week after.  Considering other events occurring on the other Sundays, we will hold to the originally planned date of February 14.  An important question has to do with how to hold the meeting, given the current explosive state of the pandemic.  No final determination has been made regarding holding the meeting wholly via Zoom or in church with some members attending via Zoom.  The warrant will be posted and announced on Sunday, January 31 and again on Sunday, February 7 and 14, the date of the meeting. 
The proposed budget that was reviewed in December was finalized and will be presented at the Annual Meeting for approval by the congregation.
Committee members' terms have been frozen since 2018 with little change in committee membership.  The list was cleaned up, citing for committee members who had term limits the year each joined that committee.  Some positions which are appointed annually or that have no term limits are simply indicated as such.  The list will appear in the Annual Report but will not require a vote by the congregation, again owing to term limits being frozen.
Committee Reports were heard – a few highlights include:
<![if !supportLists]>· <![endif]>Purchase of MEVO, software that greatly enhances streamlining capabilities for services and other events. 
<![if !supportLists]>· <![endif]>Christian Education classes will be postponed until March due to the pandemic. 
<![if !supportLists]>· <![endif]>The church budget year is ending with a slight surplus.  Expenses for December were very high, and year-end contributions this year did not realize a typical surge.
<![if !supportLists]>· <![endif]>Pledges so far are more than at the same point a year ago with a few members pledging anonymously.
<![if !supportLists]>· <![endif]>Investments are being well managed and performing well.  Two of the five CD's have recently matured with two more maturing in a few weeks.  All are being closed and transferred to Bartholomew & Company.
<![if !supportLists]>· <![endif]>Fundraising capabilities were greatly curtailed this past year due to the pandemic, but notably Pie Day in early March and the fall Pumpkin Patch were both very successful.
REMEMBER IN PRAYER
THOSE WHO ARE HOMEBOUND
IN NURSING HOMES OR
IN ASSISTED LIVING
Winnie Robinson in Assisted Living and Dorothy Brundige, at home
Our prayers and sympathy are with the family and friends of church member Ed Parks, who passed away on December 31, 2020. A funeral survive was held in Marshfield, MA.
Our prayers and sympathy are with the family and friends of former church member Zilpha Gray who passed away on January 6, 2021. There will be a private burial service on Saturday, January 30, 2021 and a Memorial Service will hopefully take place in the spring.
Our prayers and sympathy are with the family and friends of Church Member and Deacon Ann DeGrechie, who passed away on Tuesday, January 12, 2021. There was a private funeral service for Ann at Blanchard's Funeral Chapel.
Condolences may be sent to Ann's son Matt DeGrechie or to Ann's sister, Sue Johnson, who is also a member here at FCC Whitman. See the hardcopy First News or call the church for their addresses.
Our prayers and sympathy are with the family and friends of lifetime church member Nancy McLaughlin, who passed away on Monday, January 25, 2021.  There was a private funeral service at Blanchard's Funeral Chapel.
If you would like to send a card to the family, contact the church or see the hardcopy First News for the address.
SPECIAL OFFERING FOR FEBRUARY ♥
Church World Services Blanket Sunday Special Offering will be taken up on Sunday, February 14th.  Flyers with detailed information regarding this important mission are enclosed in this month's newsletter. Please be as generous as possible. Thank you!
 Drive Thru Food Pantry Collection  Saturday, March 6th. 9AM to 3PM Pull in parking lot-drop off your donation and drive away. There is a need for these essential items: Lysol wipes, napkins, aluminum foil, facial tissues, saran wrap, plastic bags, Pine Sol, window cleaner, bleach, laundry detergent and dish liquid.  Your generosity is appreciated for this important community mission.  Please contact John Barr to volunteer (781) 447-5292.
<![if !vml]>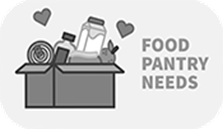 <![endif]>FASTING FROM CRITICALNESS
Most fasting involves temporarily giving up something you enjoy. When you long for a cookie or a favorite show, you instead turn your attention to God, reorienting God yourself to his best. Catherine Marshall, in A Closer Walk, presents a different approach she calls fasting from "criticalness."   She dealt with her judgmental spirit by prompting her to spend 24 hours without criticizing "anyone about anything." At first, Marshall felt rather empty when she didn't engage in a heated political debate. But friends and family didn't seem to miss her comments. Plus, God replaced the energy she'd spent attempting to correct others with energy and creativity to positively influence them.
A critical spirit can make us lose perspective, joy and even relationships. It also can prevent the good work God wants to achieve through us. Consider what could happen as a result of your own "criticalness fast."  Pray for God to do the correcting while you focus on building up others. ~Janna Firestone
Always choose love
God wants us to choose to love him freely, even when that choice involves pain, because we are committed to him, not to our own good feelings and rewards. He wants us to cleave to him, as Job did, even when we have every reason to deny him hotly. That, I believe, is the central message of Job.
Satan had taunted God with the accusation that humans are not truly free. Was Job being faithful simply because God had allowed him a prosperous life? Job's fiery trials proved the answer beyond doubt. Job clung to God's justice when he was the best example in history of God's apparent injustice. He did not seek the Giver because of his gifts; when all gifts were removed, he still sought the Giver.
--Philip Yancey, Where Is God When It Hurts?
The Ministry of Christian Education  February 2021
Committee Members:
Donna McGlinchey-Chairman, Kelly Lopes, Jennifer Murphy-Secretary, Lauretta Boyce, Rachel Eaton-Treasurer
I forgot to mention a thank you to some families who helped by participating in our Children's Christmas Pageant. We would like to thank Casey Coots, the Brundige family, the Smith family, the Travis family, the Happeny family, as well as the members of the CE Committee. Miriam, we thank you for your continued support. Rachel Eaton a special thank you, to you, for organizing and creating the decorations for this pageant.
Please email me at dlmcglinchey013@gmail.com and let me know if your 3rd grader or above has or has not received a bible. Thank you very much.
Please know we are trying to keep everyone safe and healthy, after much debating the CE is postponing Sunday School until at least March. We as a committee would like to help eliminate some stress you might be having. We are addressing this in our next meeting scheduled on February 3rd. Thank you for your support and patience through this time.
Words to live by: "Never lose hope. Just when you think it is over, God sends you a miracle."
Love and blessings,
Donna McGlinchey,
Chairperson-Ministry of Christian Education